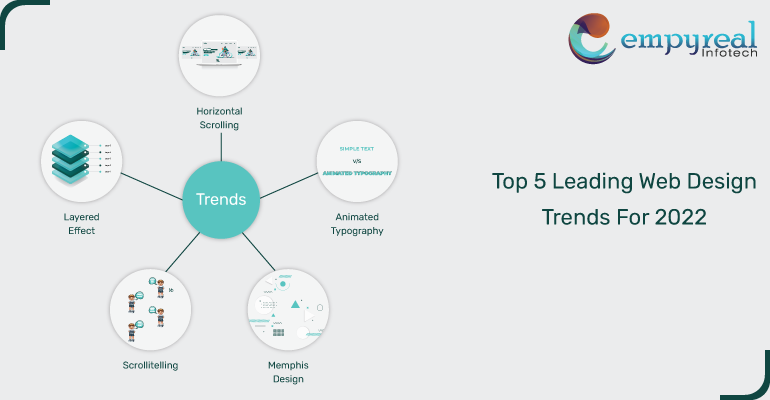 Top 5 Leading Web Design Trends for 2022
In previous year many small to large business adapted digitalization and launched their websites to keep their enterprises running in every crictle situation. Many individuals who are freelancers or working as artists are also leveraging benefits of digitalization by launching their portfolio on websites. This trend will continue to grow even more in upcoming years. To stay ahead in this world of interent, you must follow biggest website design trends to make your website look interesting.
Discover top 5 web design trends of the year 2022:
Horizontal Scrolling
Horizontal Scrolling is a method of page navigation where users can click and drag a horizontal scroll bar, press left/right arrow keys, swipe sideways, or swipe sideways to reveal the content of side windows or containers.
In Horizontal Scrolling, we can give a variety of attractive interactions between texts and images. This type of scrolling looks good for portfolio websites, catalog sites, maps, etc. Discovering online galleries, exploring places, and visiting online stores can be the most engaging example of sideways navigation using the Horizontal Scrolling method.
With beautiful illustrations and perfectly done Horizontal Scrolling, your websites can look far more interesting, fun, and memorable.
Animated Typography
Animated typography is also known as Kinetic typography, refers to any kind of moving text. Text that shrinks, moves slowly, expands, or morphs into something can be an example of animated typography.
Animated Typography is evolving rapidly. This practice is widely used by web designers in a variety of forms around the world. Animated letters can make your website looks way more attractive than a website with static text. It also catches users' attraction to your content easily, highlights important parts, and guides the users through the web page.
Kinetic typography seems to be everywhere right now - music videos, commercials, mobile apps, and websites to make their content more impactful.
Memphis Design